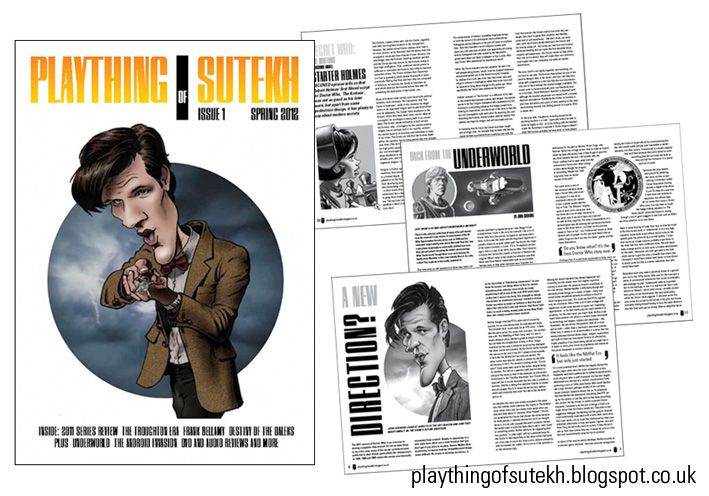 Issue 1 of Plaything of Sutekh is now available.
·
What Did the Sixties Do For Who? – a look at how the Troughton era of Doctor Who reflected the changes facing Britain in the late 60s
·
Frank's Who – the lasting influence of Frank Bellamy's Radio Times art on Doctor Who illustration.
·
Secret Who – we re-evaluate a clutch of less popular stories and find there's more to them than meets the eye: Underworld, The Krotons and The Android Invasion. Don't be afraid – they're better than you think.
·
Accidental Art – while Nation and Adams were pulling in opposite directions, Ken Grieve's innovative approach raised Destiny of the Daleks above the norm.
·
A New Direction? – a look at the evolution of Doctor Who under Steven Moffat
·
DWDVD – recent DVD releases Invasion of the Dinosaurs and The Daemons
·
Return of the King – a look at (or a listen to) Tom Baker's return as the Doctor in Big Finish audios
The issue is 40 b/w A5 pages, fully illustrated with colour covers.
To order, please send a Paypal payment (via paypal.co.uk or paypal.com) to playthingofsutekh@mail.com
Please add your address in the notes section. You can also pay by cheque - please drop us an email for the payee details. The fanzine is
a non-profit publication.
Price, including P&P
(don't forget to add your address!)
:
* Elsewhere in Europe: £3.60